Over the weekend we had the most fun! Kelvin chose a very nice tent last year for his 20th anniversary at work. He popped it up, along with Luke's adorable giraffe tent he received a couple of years back for his birthday, and we had us a good ole backyard campout! Kelvin made a splendid fire, the kids roasted marshmallows, we gazed at the stars, and we all climbed in our tents for the night. The kids did great! I slept surprisingly well, but I felt like I had been run over by a train the next morning. If we would have had one of those blow up mattresses, it would have been much better. Maybe next time. I'm glad our kiddos like to do things like camp out in the backyard. It's one of those things that makes me smile...
This morning, I sent our big girl, Carleigh, off to Girls Camp (
GA Camp
-Girls in Action) with her friend, Carli. I can't believe she is old enough to go to camp. I remember going to GA camp. We had so much fun. One year, I remember it rained during our free time, and they let us swim in the lake in the rain. We slid down the muddy bank into the lake and had the time of our lives. She will do great and have fun, I'm certain. I hope she misses us just a little bit. Cora already misses her. I hope and pray most of all she learns more about the depths of God's love for her and how to be kind and love her friends. I can't wait to hear all about her experience!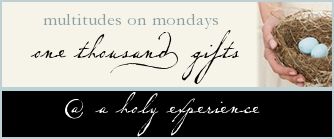 Joining Ann and others and giving thanks for...
#42 campouts in the backyard
#43 limes, cilantro and cucumbers on a hot summer day
#44 squeals of delight from kids playing in the pool
#45 babies with blue lips after playing in the pool when the sun goes down
#46 gruffy voice of my boy
#47 Cora's inquisitiveness
#48 the feel of my true love's lips against mine
#49 the smell of the grill burning
#50 star gazing
#51 dreaming about the future with the one I love
#52 scripture in my memory..."He forgave us all our sins, having canceled the charge of our legal indebtedness, which stood against us and condemned us;
he has taken it away, nailing it to the cross
. And having disarmed the powers and authorities, he made a public spectacle of them, triumphing over them by the cross."
#53 time with friends
#54 sunsets